Massive power output is not the only mark of a flagship subwoofer. Though we can compete with the world's best in that category, our design metric is to have ultra-low distortion to recreate the subtlety of every detail from the bass guitar to the 12 Hz stomp of a T-Rex. Innovative technology such as a 3 kW smart amp with a 32 bit ARM core, iOS and Android app to control up to eight subwoofers, a 2.4" TFT touchscreen, and a dual woofer Push-Pull configuration for extremely low distortion. This monster can dance as effortlessly as a ballerina or crush the frequencies well below 20Hz.
The Mark of a Push-Pull design
Every aspect of this woofer was computer-optimized to ensure that every imaginable ounce of performance is achieved and then validated with advanced Klippel test equipment. Starting with the tuning of the massive 60 mm peak linear excursion, spider compliance, and magnetic motor curve. The two woofers are then mounted on a massive 80 mm front baffle and operated in push-pull configuration with cancellation of second order harmonics to further reduce distortion every step of the way ensuring the best low frequency experience possible.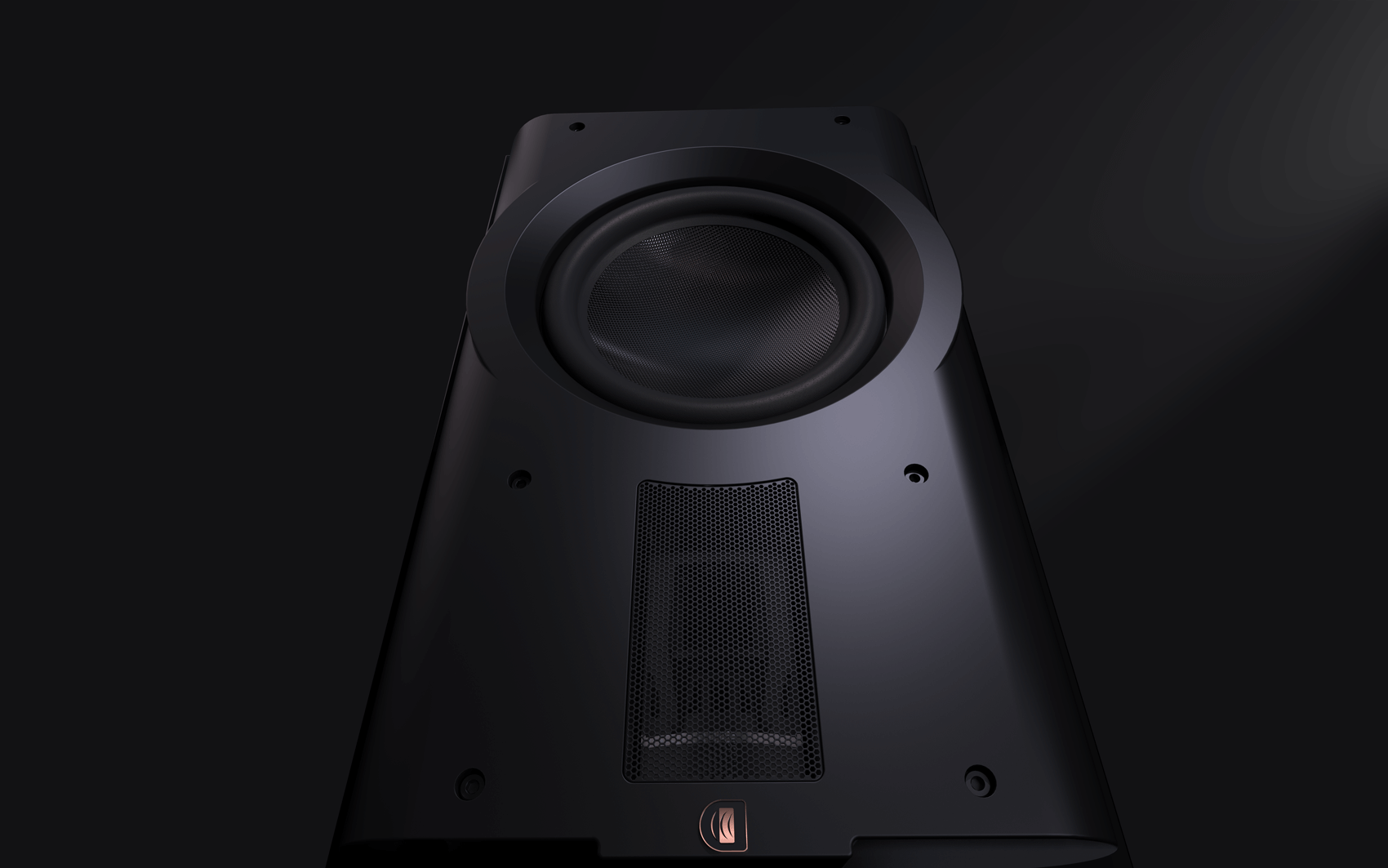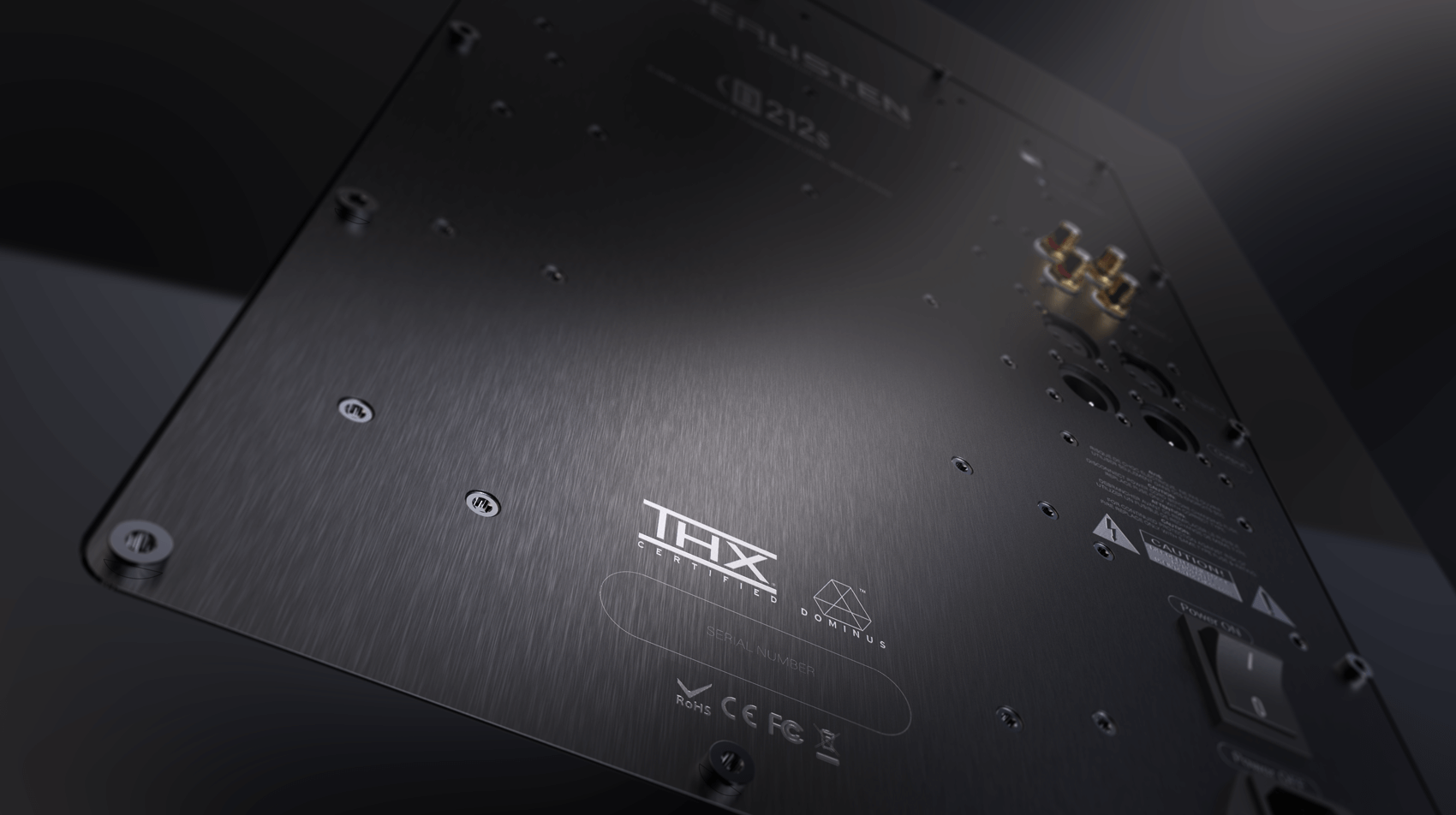 1.5 - 3.0 kW of Intelligence
At the core of our amps is a 32-bit ARM processor to control innovative technologies like real-time temperature status, current and voltage monitoring, fault detection, and performance diagnostics executed more than 1,000 times per second. All of this to make sure that our 3 kW amplifiers are always in control, even well below 20 Hz. In addition, we have dual balanced and single-ended inputs with passthrough, 12v trigger, and OTA firmware updates via our app to always deliver the latest improvements. The end result is low distortion bass for the finest details with the dynamic range to meet the highest transients without compression and control at the click of a button.
Bass management is critical to the control the notoriously difficult acoustic environment known as your listening room. Standing waves, subwoofers placed in a less than ideal position, and sound variation from seat to seat are only some of these issues. Control for up to eight subwoofers with three banks of 10 PEQ's per woofer, Time Delay, Phase, up to six standard EQ's, 24 dB lowpass crossovers and polarity switching, are all tools available to optimize in-room performance. Our app uses Bluetooth Low Energy to communicate with your iOS or Android based devices.
Google Play and the Google Play logo are trademarks of Google LLC.
Technical specifications
Alignment
Push-Pull, acoustic suspension
Push-Pull, acoustic suspension
Acoustic suspension
Acoustic suspension
Push-Pull, acoustic suspension
Push-Pull, acoustic suspension
Amplifer
3.0kW rms short term
3.0kW rms short term
2.0kW rms short term
1.5kW rms short term
1.3kW rms short term
1.3kW rms short term
Display Interface
2.4" LCD color touchscreen
2.4" LCD color touchscreen
2.4" LCD color touchscreen
2.4" LCD color touchscreen
2.4" LCD color touchscreen
2.4" LCD color touchscreen
App
iOS and Android
iOS and Android
iOS and Android
iOS and Android
iOS and Android
iOS and Android
Processor
32-bit ARM Cortex M4, double precision floating point math
32-bit ARM Cortex M4, double precision floating point math
32-bit ARM Cortex M4, double precision floating point math
32-bit ARM Cortex M4, double precision floating point math
32-bit ARM Cortex M4, double precision floating point math
32-bit ARM Cortex M4, double precision floating point math
DSP engine
Ti DSP 48-bit data paths
Ti DSP 48-bit data paths
Ti DSP 48-bit data paths
Ti DSP 48-bit data paths
Ti DSP 48-bit data paths
Ti DSP 48-bit data paths
Driver compliment
(2)380mm, Carbon fiber diaphragm
+/-30mm linear excursion
(2)300mm, Carbon fiber diaphragm
+/-30mm linear excursion

380mm, Carbon fiber diaphragm
+/-30mm linear excursion
300mm, Carbon fiber diaphragm
+/-30mm linear excursion
(2)300mm, Glass fiber diaphragm
+/-20mm linear excursion
(2)250mm, Glass fiber diaphragm
+/-20mm linear excursion
Reference sensitivity
92dB / 150mV / 1.0m
92dB / 150mV / 1.0m
92dB / 150mV / 1.0m
92dB / 150mV / 1.0m
-
Frequency Response
THX EQ
Boost (Large Room) EQ
Cut (Small Room) EQ
20-200Hz (-6dB) / 16-210Hz (-10dB)
15-200Hz (-6dB) / 13-210Hz (-10dB)
24-200Hz (-6dB) / 18-210Hz (-10dB)
20-231Hz (-6dB) / 16-245Hz (-10dB)
15-231Hz (-6dB) / 13.5-245Hz (-10dB)
24-231Hz (-6dB) / 18-245Hz (-10dB)
20-320Hz (-6dB) / 16-395Hz (-10dB)
16-320Hz (-6dB) / 14-395Hz (-10dB)
24-320Hz (-6dB) / 18-395Hz (-10dB)
20-289Hz (-6dB) / 16-330Hz (-10dB)
16-289Hz (-6dB) / 14-330Hz (-10dB)
25-289Hz (-6dB) / 19-330Hz (-10dB)
20-256Hz (-6dB) / 16-278Hz (-10dB)
16-256Hz (-6dB) / 14-278Hz (-10dB)
25-256Hz (-6dB) / 19-278Hz (-10dB))
20-290Hz (-6dB) / 16-302Hz (-10dB)
16-290Hz (-6dB) / 14-302Hz (-10dB)
25-290Hz (-6dB) / 19-302Hz (-10dB)
Inputs
(2) Balanced XLR
(2) Unbalanced RCA
(2) Balanced XLR
(2) Unbalanced RCA
(2) Balanced XLR
(2) Unbalanced RCA
(2) Balanced XLR
(2) Unbalanced RCA
(2) Balanced XLR
(2) Unbalanced RCA
(2) Balanced XLR
(2) Unbalanced RCA
Outputs
(2) Balanced XLR unbuffered
(2) Unbalanced RCA unbuffered
(2) Balanced XLR unbuffered
(2) Unbalanced RCA unbuffered
(2) Balanced XLR unbuffered
(2) Unbalanced RCA unbuffered
(2) Balanced XLR unbuffered
(2) Unbalanced RCA unbuffered
(2) Balanced XLR unbuffered
(2) Unbalanced RCA unbuffered
(2) Balanced XLR unbuffered
(2) Unbalanced RCA unbuffered
Parametric EQ
10-Band PEQ with 3 user presets
10-Band PEQ with 3 user presets
10-Band PEQ with 3 user presets
10-Band PEQ with 3 user presets
10-Band PEQ with 3 user presets
10-Band PEQ with 3 user presets
Low Pass filter
Bypass, 30-160Hz, slope 6,12,18,24dB/oct
Bypass, 30-160Hz, slope 6,12,18,24dB/oct
Bypass, 30-160Hz, slope 6,12,18,24dB/oct
Bypass, 30-160Hz, slope 6,12,18,24dB/oct
Bypass, 30-160Hz, slope 6,12,18,24dB/oct
bypass, 30-160Hz, slope 6,12,18,24dB/oct
Phase
Variable 0-270°
Variable 0-270°
Variable 0-270°
Variable 0-270°
Variable 0-270°
Variable 0-270°
Polarity
Normal / inverted
Normal / inverted
Normal / inverted
Normal / inverted
Normal / inverted
Normal / inverted
Configurable Auto turn-on and 12v Trigger
XLR 1, XLR 1+2, RCA 1, RCA 1+2
XLR 1, XLR 1+2, RCA 1, RCA 1+2
XLR 1, XLR 1+2, RCA 1, RCA 1+2
XLR 1, XLR 1+2, RCA 1, RCA 1+2
XLR 1, XLR 1+2, RCA 1, RCA 1+2
XLR 1, XLR 1+2, RCA 1, RCA 1+2
Dimensions (HxWxD)
805 x 500 x 650.5mm
31.7 x 19.7 x 25.6"
668 x 420 x 550mm
26.3 x 16.5 x 21.6"
528 x 500 x 500mm
20.8 x 19.7 x 19.7"
448 x 420 x 450mm
17.6 x 16.5 x 17.7"
600 x 410 x 500mm
23.6 x 16.1 x 19.7"
545 x 380 x 450mm
21.5 x 15.0 x 17.7"
Weight
92.0 kg (202.4 lbs.)
68.0 kg (149.6 lbs.)
46.0 kg (101.2 lbs.)
41.0 kg (90.2 lbs.)
48.2 kg (106.0 lbs.)
44.0 kg (96.8 lbs.)
Certification
THX Dominus
THX Dominus
THX Dominus
THX Dominus
THX Dominus (2), THX Ultra (1)
THX Dominus (4), THX Ultra (1)
Available finishes
Piano black
Piano black
Piano black
Piano black
Piano black
Piano black
Datasheet
View
View
View
View
View
View