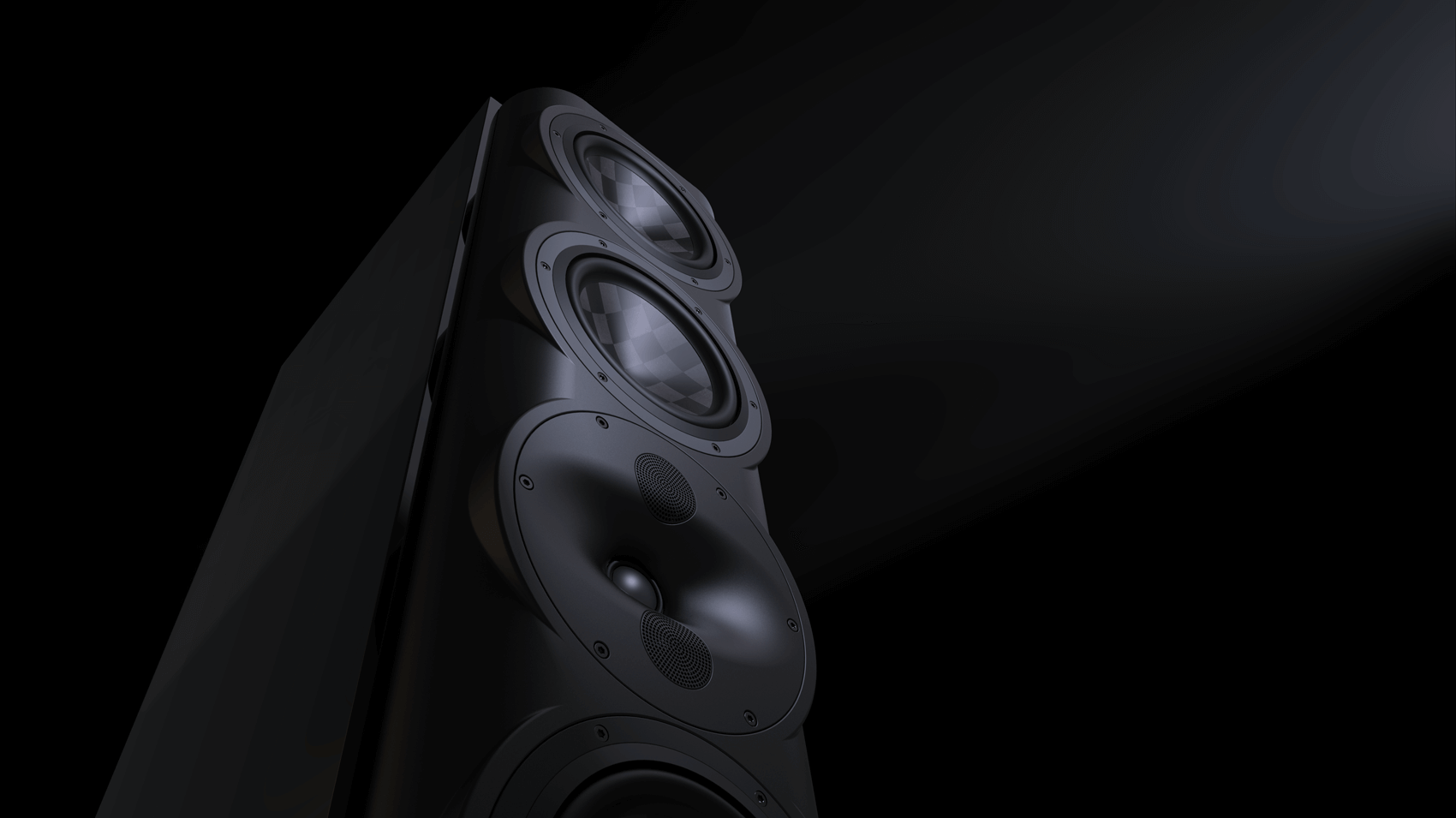 Our most advanced loudspeaker to date! When only the highest fidelity matters most. Featuring our proprietary DPC-Array controlling Mid/High frequencies and centered by our finest 28mm Beryllium dome and dual 28mm TPCD ultra-lightweight domes. All transducers are developed from the ground up by our engineers, based on decades of research and culminating in this world class design. All S Series speakers share the same DPC-Array and benefit from our unique timbre matching technique. The entire series utilizes our Beryllium dome tweeters and our advanced Carbon fiber bass/mid drivers. These speakers can be configured as bass reflex or acoustic suspension to meet the demands of any listening room for true full-range performance with unparalleled dynamic range and musical finesse.
Thin Ply Carbon Diaphragm
The (TPCD) TexTreme carbon fiber used in our midrange drive units is also the key to the performance of our woofers, resulting in lighter-than-air dynamics and the impact you expect in a flagship Speaker that can play down to 20Hz in-room. This technology is 30% lighter than standard carbon fiber of the same thickness, with increased strength from using the unique process of stacking multiple layers. The unique weave is unmistakable and distributes break-up modes without sharp response peaks, while extending bandwidth. Simply perfect.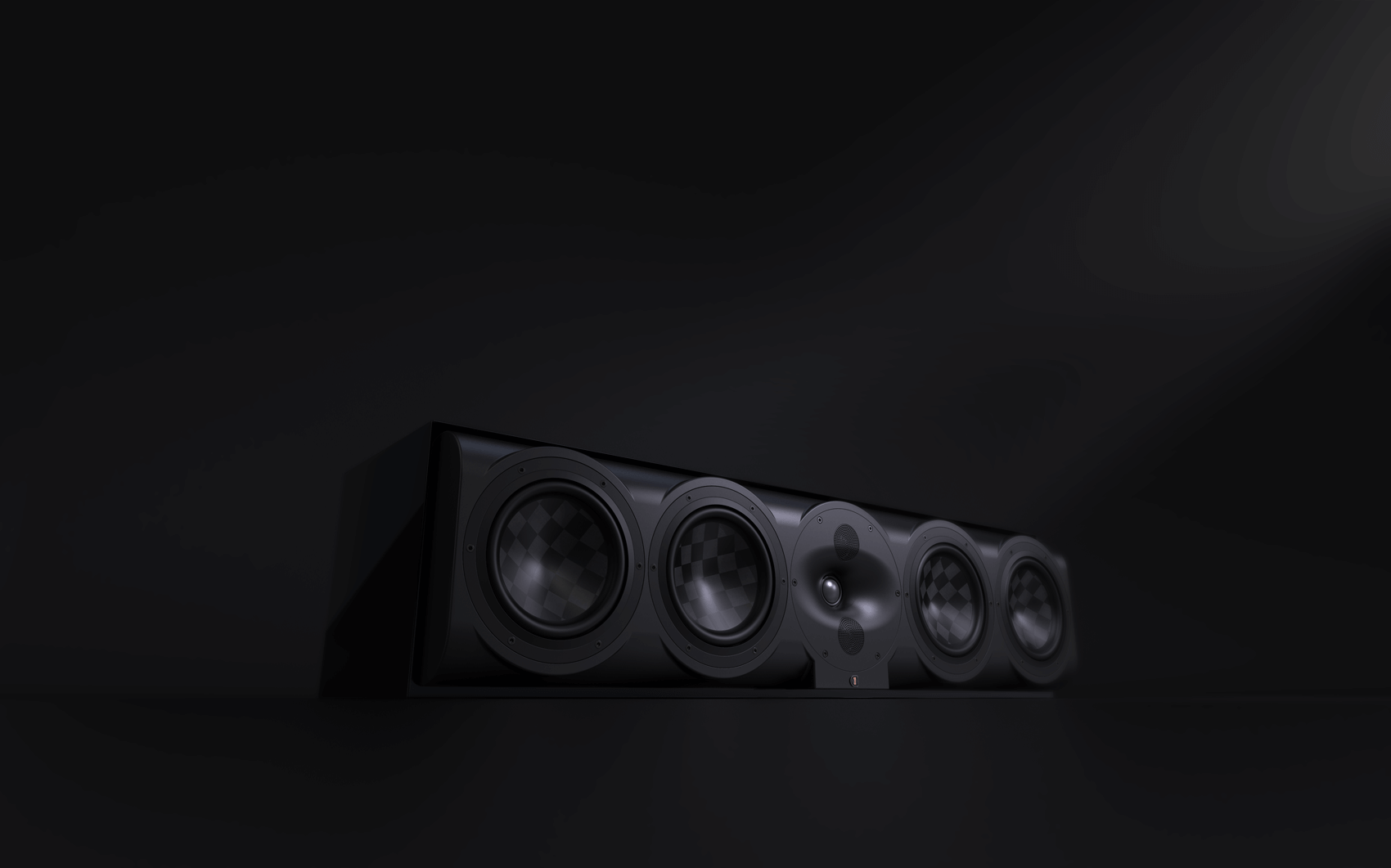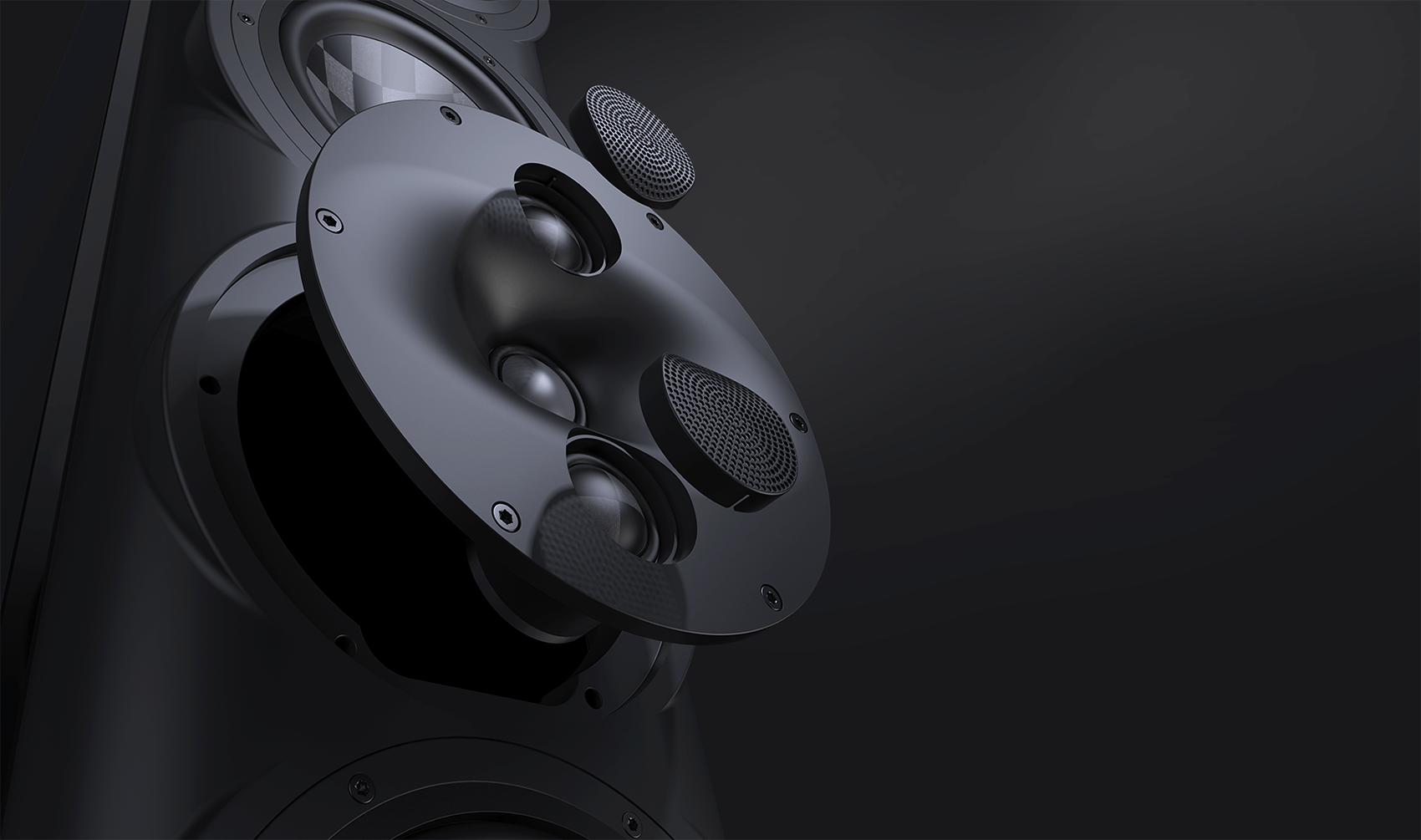 Directivity Pattern Control
DPC (Patent Pending) – We teamed up with companies in the USA and Sweden to bring modern materials technology to hi-fi, utilizing advanced Comsol acoustic modeling.  The DPC array is the result of 18 months of painstaking simulations.  We just love it and think you will, too.
Beryllium, covering the widest bandwidth up to ultrasonic frequencies, our finest 28mm Beryllium dome takes center stage. Beryllium is one of the strongest materials known to man and does not suffer from the typical harsh break-up modes of other metals due to its outstanding damping characteristics.  Accurate, undistorted, and revealing.
TPCD Carbon Fiber – The Beryllium tweeter is flanked by our dual 28mm TPCD ultra-lightweight Carbon fiber midrange domes.  Allowing the crossover point to extend more than an octave lower than typical domes,  fast, lightweight and without beaming caused by larger diaphragms.
Waveguide lens – all of this technology wouldn't be worth it without the waveguide orchestrating the directional characteristics of the array.   Presenting a coherent wavefront, while optimizing early reflections and sound power, to bring vocal reproduction to an altogether new level.
It takes more than just world-class materials to make world-class sound. It takes quality that lets you know that your speakers will never fail you in the middle of a dynamic crescendo or when experiencing the delicate subtlety of a triangle in your favorite orchestra. We demand this from our products, so you don't have to.
Technical specifications
Enclosure alignment
3-way acoustic suspension
3-way acoustic suspension
Driver compliment
DPC-Array:
28mm Beryllium
28mm(2) Textreme TPCD
Woofers:
180mm Textreme TPCD
DPC Array:
26mm(3) Silk dome
Woofers:
165mm HPF diaphragm
Sensitivity(2pi)
85.4dB / 2.83v / 1.0m
84.6dB / 2.83v / 1.0m
Impedance
4Ω nominal / 3.2Ω min
4Ω nominal / 3.8Ω min
Frequency Response (+/-1.5dB)
100 - 20kHz Listening Window
80 - 20kHz +/-1.5dB window
Frequency Response (-10dB)
36 - 37kHz
80 - 20kHz +/-1.5dB window
Typical in room bass extension
30Hz
38Hz
Dimensions (HxWxD)
420 x 240 x 185mm
16.5 x 9.5 x 7.3"
382 x 230 x 236mm
15.0 x 9.0 x 9.3"
Weight
11.0 kg (24.2 lbs.)
9.5 kg (20.9 lbs.)
Recommended Amplifier Power
50 - 300W RMS
50 - 200W RMS
SPL capability (100-20kHz)
111dB peak <2% - 2nd, 3rd Harmonics
107.6dB peak <3% - 2nd, 3rd Harmonics
Certification
THX Dominus
THX Ultra
Available finishes
Piano black, Gloss white
Piano black, Gloss white
Datasheet
View
View
Technical specifications
Enclosure alignment
4-way acoustic suspension
3-way acoustic suspension
Driver compliment
DPC-Array:
28mm Beryllium
28mm(2) Textreme TPCD
Woofers:
180mm(4) Textreme TPCD
DPC-Array:
26mm(3) Silk dome
Woofers:
165mm(2) HPF diaphragms
Sensitivity
92dB / 2.83v / 1.0m
88.6dB / 2.83v / 1.0m
Impedance
4Ω nominal / 3.2Ω min
4Ω nominal / 3.4Ω min
Frequency Response (+/-1.5dB)
80 - 20kHz
80 - 20kHz +/-1.5dB window
Frequency Response (-10dB)
38 - 37kHz
49 - 32kHz
Typical In Room bass extension
32Hz
44Hz
Dimensions (HxWxD)
960 x 240 x 400mm
37.8 x 9.5 x 15.7"
240 x 550 x 270mm
9.5 x 21.6 x 10.6"
Weight
33.5 kg (74 lbs.)
15.0 kg (33.0 lbs.)
Recommended Amplifier Power
100 - 600W RMS
100 - 250W RMS
SPL Capability (100-20kHz)
117dB peak <2% - 2nd, 3rd Harmonics
112.6dB peak <3% - 2nd, 3rd Harmonics
Certification
THX Dominus - LCR
THX Dominus, THX Ultra
Available finishes
Piano black, Gloss white
Piano black
Datasheet
View
View
Technical specifications
Enclosure alignment
3-way bass reflex / acoustic suspension
3-way bass reflex / acoustic suspension
Driver compliment
DPC Array:
28mm Beryllium
28mm(2) Textreme TPCD
Woofers:
180mm(2) Textreme TPCD
DPC-Array:
26mm(3) Silk dome
Woofers:
165mm(2) HPF diaphragms
Sensitivity
89.6dB / 2.83v / 1.0m
89.2dB / 2.83v / 1.0m
Impedance
4Ω nominal / 3.0Ω min
4Ω nominal / 2.7Ω min
Frequency Response (+/-1.5dB)
80 - 20kHz Listening window
80 - 20kHz +/-1.5dB window
Frequency Response (-10dB)
Bass reflex: 35 - 37kHz
Acoustic suspension: 41 - 37kHz
Bass reflex: 40 - 32kHz
Acoustic suspension: 47 - 32kHz
Typical in room bass extension
Bass reflex: 29Hz
Acoustic suspension: 32Hz
Bass reflex: 37Hz
Acoustic suspension: 43Hz
Dimensions (HxWxD) without stand
600 x 240 x 400mm
23.6 x 9.5 x 15.7"
546 x 230 x 336mm
21.5 x 9.0 x 13.2"
Weight
19.0 kg (41.8 lbs.)
17.5 kg (38.5 lbs.)
Recommended Amplifier Power
50 - 300W RMS
100 - 250W RMS
SPL capability (100-20kHz)
117dB peak <2% - 2nd, 3rd Harmonics
113.2dB peak <3% - 2nd, 3rd Harmonics
Certification
THX Dominus, THX Ultra
THX Dominus, THX Ultra
Available finishes
Piano black, Gloss white
Piano black
Datasheet
View
View
Technical specifications
Enclosure alignment
3-way acoustic suspension
3-way acoustic suspension
Driver compliment
DPC Array:
28mm Beryllium
28mm(2) Textreme TPCD
Woofers:
180mm Textreme TPCD
DPC-Array:
26mm(3) Silk dome
Woofers:
165mm HPF diaphragm
Sensitivity(2pi)
88.8dB / 2.83v / 1.0m
86.5dB / 2.83v / 1.0m
Impedance
4Ω nominal / 3.2Ω min
4Ω nominal / 3.7Ω min
Frequency Response (+/-1.5dB)
100 - 20kHz Listening Window
300 - 20kHz +/-1.5dB window
Frequency Response (-10dB)
39 - 37kHz
48 - 32kHz
Typical In Room bass extension
33Hz
42Hz
Dimensions (HxWxD)
405 x 240 x 185mm
15.9 x 9.5 x 7.3"
378 x 230 x 173mm
14.9 x 9.0 x 6.8"
Weight
9.5 kg (20.9 lbs.)
9.5 kg (20.9 lbs.)
Recommended Amplifier Power
50 - 300W RMS
50 - 200W RMS
SPL capability (100-20kHz)
111dB peak <2% - 2nd, 3rd Harmonics
109.5dB peak <3% - 2nd, 3rd Harmonics
Certification
THX Dominus, THX Ultra
THX Ultra
Available finishes
Piano black, Gloss white
Piano black, Gloss white
Datasheet
View
View
Technical specifications
Dimensions (HxWxD)
1295 x 240 x 400mm
51.0 x 9.5 x 15.7"
1268 x 230 x 350mm
49.9 x 9.0 x 13.7"
1119 x 240 x 400mm
44.1 x 9.5 x 15.8"
1100 x 230 x 350mm
43.3 x 9.0 x 13.7"
Weight
55.7 kg (122.5 lbs.)
48.0 kg (105.6 lbs.)
43.2 kg (95.1 lbs.)
26.5 kg (58.3 lbs.)
Available finishes
Piano black, Gloss white
Piano black
Piano Gloss Black, White
Special Edition Veneers
Piano black
Enclosure alignment
4-way bass reflex / acoustic suspension
4-way bass reflex / acoustic suspension
3-way bass reflex / acoustic suspension
3-way bass reflex / acoustic suspension
Driver compliment
DPC-Array:
28mm Beryllium
28mm(2) Textreme TPCD

Woofers:
180mm(4) Textreme TPCD
DPC-array:
26mm(3) Silk dome

Woofers:
165mm(4) HPF diaphragms
DPC Array:
28mm Beryllium
28mm(2) Textreme TPCD

Woofers:
180mm(2) Textreme TPCD
DPC-Array:
26mm(3) Silk dome

Woofers:
165mm(2) HPF diaphragms
Sensitivity
92.2dB / 2.83v / 1.0m
90.0dB / 2.83v / 1.0m
89.5dB / 2.83v / 1.0m
89.0dB / 2.83v / 1.0m
Impedance
4Ω nominal / 3.2Ω min
4Ω nominal / 3.1Ω min
4Ω nominal / 3.0Ω min
4Ω nominal / 3.2Ω min
Response linearity (+/-1.5dB)
80 - 20kHz
80 - 20kHz +/-1.5dB window
80 - 20kHz +/-1.5dB window
80 - 20kHz +/-1.5dB window
Frequency Response (-10dB)
Bass reflex:
22 - 37kHz
Acoustic suspension:
32 - 37kHz
Bass reflex:
27 - 32kHz
Acoustic suspension:
38 - 32kHz
Bass reflex:
24 - 32kHz
Acoustic suspension:
36 - 32kHz
Bass reflex:
24 - 32kHz
Acoustic suspension:
38 - 32kHz
Typical in room bass extension
Bass reflex: 16Hz
Acoustic suspension: 23Hz
Bass reflex: 19Hz
Acoustic suspension: 30Hz
Bass reflex:
20Hz
Acoustic suspension:
23Hz
Bass reflex: 21Hz
Acoustic suspension: 32Hz
Recommended Amplifier Power
100 - 600W RMS
100 - 400W RMS
100 - 300W RMS
100 - 250W RMS
SPL capability (100-20kHz)
117dB peak <2% - 2nd, 3rd Harmonics
116.0dB peak <3% - 2nd, 3rd Harmonics
114.3dB peak
114.0dB peak <3% - 2nd, 3rd Harmonics
113.0dB peak <3% - 2nd, 3rd Harmonics
Certification
THX Dominus
THX Dominus, THX Ultra
THX Dominus, THX Ultra
THX Dominus, THX Ultra
Datasheet
View
View
View
View
R4i-LCRS
R5i-LR
R5i-C
Technical specifications
Dimensions (HxWxD)
479 x 298 x 111mm
18.9 x 11.8 x 4.4"
665 x 298 x 111mm
26.2 x 11.8 x 4.4"
298 x 665 x 111mm
11.8 x 26.2 x 4.4"
1036.6 x 298.6 x 111.2mm
40.8 x 11.8 x 4.4"
298.6 x 1036.6 x 111.2mm
11.8 x 40.8 x 4.4"
479 x 298 x 111mm
18.9 x 11.8 x 4.4"
665 x 298 x 111mm
26.2 x 11.8 x 4.4"
298 x 665 x 111mm
11.8 x 26.2 x 4.4"
Mounting dimensions
(HxWxD)
438 x 257 x 101.7mm
17.2 x 10.1 x 4.0"
624 x 257 x 101.7mm
24.6 x 10.1 x 4.0"
257 x 624 x 101.7mm
10.1 x 24.6 x 4.0"
996 x 257 x 101.7mm
39.2 x 10.1 x 4.0"
257 x 996 x 101.7mm
10.1 x 39.2 x 4.0"
438 x 257 x 101.7mm
17.2 x 10.1 x 4.0"
624 x 257 x 101.7mm
24.6 x 10.1 x 4.0"
257 x 624 x 257 x 101.7mm
10.1 x 24.6 x 4.0"
Weight
11.2 kg
24.6 lbs.
15.9 kg (35.0 lbs.)
15.9 kg (35.0 lbs.)
26.4 kg (58.0 lbs.)
26.4 kg (58.0 lbs.)
11.2 kg (24.6 lbs.)
15.9 kg (35.0 lbs.)
15.9 kg (35.0 lbs.)
Available finishes
White grille, Black baffle
White grille, Black baffle
White grille, Black baffle
White grille, Black baffle
White grille, Black baffle
White grille, Black baffle
White grille, Black baffle
White grille, Black baffle
Enclosure Alignment
3-way acoustic suspension
3-way acoustic suspension
3-way acoustic suspension
4-way acoustic suspension
4-way acoustic suspension
3-way acoustic suspension
3-way acoustic suspension
3-way acoustic suspension
Driver complement
DCP-Array:
28mm Beryllium
28mm(2) Textreme TPCD
Woofers:
180mm(1) Textreme TPCD
DCP-Array:
28mm Beryllium
28mm(2) Textreme TPCD
Woofers:
180mm(2) Textreme TPCD
DCP-Array:
28mm Beryllium
28mm(2) Textreme TPCD
Woofers:
180mm(2) Textreme TPCD
DCP-Array:
28mm Beryllium
28mm(2) Textreme TPCD
Woofers:
180mm(4) Textreme TPCD
DCP-Array:
28mm Beryllium
28mm(2) Textreme TPCD
Woofers:
180mm(4) Textreme TPCD
DCP-Array:
26mm(3) Silk dome
Woofers:
165mm HPF diaphragm
DCP-Array:
26mm(3) Silk dome
Woofers:
165mm(2) HPF diaphragms
DCP-Array:
26mm(3) Silk dome
Woofers:
165mm(2) HPF diaphragms
Sensitivity (2pi)
88.0dB / 2.83v / 1.0m
91.9dB / 2.83v / 1.0m (2pi)
91.9dB / 2.83v / 1.0m
92.0dB / 2.83v / 1.0m
88.8dB / 2.83v / 1.0m
89.2dB / 2.83v / 1.0m
89.4dB / 2.83v / 1.0m
Impedance
4Ω nominal / 3.1Ω min
4Ω nominal / 3.1Ω min
4Ω nominal / 3.2Ω min
4Ω nominal / 3.4Ω min
4Ω nominal / 3.4Ω min
4Ω nominal / 3.3Ω min
4Ω nominal / 2.8Ω min
4Ω nominal / 3.3Ω min
Response Linearity
80 - 20kHz +/-1.5dB window
80 - 20kHz +/-1.5dB window
80 - 20kHz +/-1.5dB window
80 - 20kHz +/-1.5dB window
80 - 20kHz +/-1.5dB window
100 - 20kHz +/-1.5dB window
80 - 20kHz +/-1.5dB window
80 - 20kHz +/-1.5dB window
Frequency Response (-10dB)
42 - 37kHz
52 - 37kHz
50 - 37kHz
45 - 37kHz
47 - 37kHz
46 - 37kHz
39 - 32kHz
40 - 32kHz
Typical In Room bass extension
38Hz
46Hz
42Hz
37Hz
39Hz
40Hz
34Hz
34Hz
Recommended Amplifier Power
50 - 250W RMS
100 - 350W RMS
100 - 350W RMS
100 - 600W RMS
100 - 600W RMS
50 - 200W RMS
50 - 250W RMS
50 - 250W RMS
SPL capability @1m (100-20kHz)
112.0dB peak
111.0dB peak <3% 2nd, 3rd Harmonics
117.3dB peak
117.0dB peak <3% 2nd, 3rd Harmonics
117.0dB peak
117.0dB peak <3% 2nd, 3rd Harmonics
119.7dB peak
117.0dB peak <3% 2nd, 3rd Harmonics
119.8dB peak
117.0dB peak <3% 2nd, 3rd Harmonics
111.8dB peak
111.0dB peak <3% 2nd, 3rd Harmonics
113.2dB peak
111.0dB peak <3% - 2nd, 3rd Harmonics
113.4dB peak
111.0dB peak <3% - 2nd, 3rd Harmonics
Certification
THX Dominus Surround, Ultra LCR
THX Dominus
THX Dominus
THX Dominus
THX Dominus
THX Dominus Surround, Ultra LCR
THX Dominus, THX Ultra
THX Dominus, THX Ultra
Datasheet
Download PDF
Download PDF
Download PDF
Download PDF
Download PDF
Download PDF